Brought Aricia & Athena to Paragon today as it is Aricia's check on her jaundice level.
Before we brought her out, we changed her diaper. And you know, just when you are in a hurry, things get more crazy. Aricia poo-ed so mom washed her bottoms with the water in her 'top & tail' pail. She had to poo some more (into mom's hands) And I quickly grabbed her used diaper trying to catch her poo, and.......she had to do a Manneken Pis act. Her pee literally forms a rainbow and hit me & the floor. We were screaming & laughing, Athena was laughing at us. Third time! She had pee-ed on hubby twice already so he calmly told me "good! let her urine on you. You always laugh at me."
After some cleaning up on girl, we left the dirty floor for KZ, we left the house. I carried her in the front seat with me and when we were about 10 mins away - she wanted a feed. By the time hubby dropped us at the back taxi-stand (facing Mt E)she was still sucking. Nobody knew I was carrying a baby in the lift until Athena spoke about mei-mei; they all turned to look at me.
All's well, jaundice went down. No need to run a blood test at all. She's now 2.235kg, gained 100+grms over a period of 3 days. Not too bad! For that 15mins of check, we were charged a hefty sum of $84!!! We were asked to go back for her second HepB jab in a month's time. I doubt I'll be going back there. The distance alone will kill me, which was the reason why Athena also did not go back to her 1st PD. I mean, if my child is sick I am crazy to travel half the island when there are other clinics nearby. I might let Aricia go to the Kids Clinic in Rivervale Mall, perhaps I should change Athena's PD too!
After the visit, I dropped by Metro to look for something for my pump, and safety pins. Just a short walk and I was so tired. Fortunately, the staffs were very helpful, she helped me look for the items I needed. And another staff offered to help me pay at the cashier.At first Athena said she wanted to go to the Toys, but did not go. I felt bad... and promised her once I am well, I will bring her to ELC. She was hungry so we went down to basement to get some bread for her. The weary me simply had to sit down carrying a tiny blankie. I must admit people walking past will look at the little newborn, and smile to me. We left for home after that.
Aricia's first day out? Just like her sister, both were sleeping throughout. Athena opened her eyes the moment we stepped into the house. Aricia opened her eyes in the car as hubby was reversing into the lot.
Here's a pic of daddy with his 2 little girls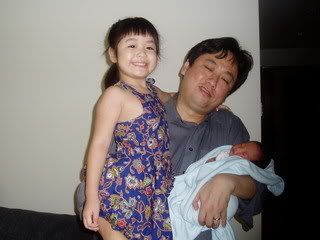 Since she don't need to be under the light, Aricia is now sleeping in this temporary cot which we rented from the hospital- so that I don't have to walk from room to room everyday.