For the first time my appointment is in the afternoon (Dr Teoh had to do a surgery).
I brought Athena out with me at 10am, as her school is closed for today and tomorrow. We reached town at 10plus, enough time for a stroll to Takashimaya where I needed to get some things from Creative Hands. She made a stop at The Better Toy Shop before heading for lunch. She didn't finish her food as she was complaining hungry earlier on and she had 2 slices of bread (as shown)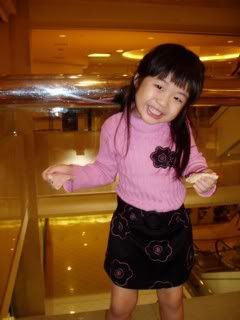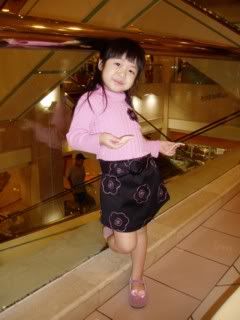 I couldn't help to finish her lunch for her it as I'm still fasting. After lunch, we headed to where else?! - Her favourite shop - ELC.
The time spent in ELC was neither too long nor was it too short, but it was good enough for me to walk over to Mt E in time for my appointment.
Dr did the scan for me today, checking on all the measurements etc... which obviously I didn't understand. I am only interested to know how heavy Aricia is. Then he made a comment "baby is very small", (he had a funny look on his face which made me worry) and then stared back into the screen. He kept turning the probe here and there and I didn't feel Aricia move at all. The moment he brought up the probe, Aricia started to move and was making some funny light movements - as if she was so irrtated with the ultrasound waves. I bursts out laughing at her actions.
I don't know if he was under tremendous pressure today as he just got back from a surgery in the afternoon and then he had to cancel all the other appointments from 3pm onwards for some complications/emergencies cases that came up at last minute.
But anyway I checked with Nora on Aricia's weight. And she told me 2.08AC, which she explained is the measurement of the baby's blah blah. I don't know what she said as it made me even more confused, I didn't want to question further as they were all so busy. Then when I asked her what was Athena's weight at the same gestation. She said "it's the same.." Huh?
Dr did asked me what was Athena's weight when born. He said that Aricia should be around the same weight - in other words all the baby I carry aresmall babies. In other words, my tummy will always looked smaller than normal people. So does it mean I don't get stretchmarks again this time round??
I am only worried about how much I can help Aricia gain weight. Supposedly 2.08kg is the weight now, she only gained 100grams (1 pack of Famous Amos cookies) within 10 days? So I don't have that many weeks to go to help me gain more weight for her. And I did tell Dr my worry that now I can't eat alot to help her but on the other hand - I had to watch what I eat. So how to help her? "Don't worry the baby is like a parasite now. She will absorb everything you eat. Don't worry she's not at any risk. But call us if within 4 hours you don't feel any movements from her."
What really went through my mind was 'better take everything from me. I am in the range of what I wanted my weight gain to be - 10kg or less, so don't don't let everything come back to me again.'
I was telling Peck Lin that Dr said my baby is small. Then she mentioned something that I should relax and not do anything. I told her I'm on the move all the time and I'm also exercising. What she said after that really surprised me - "so now you must learn to relax and rest. Don't be on the move all the time." I thought it's good to exercise? Well, it makes birthing easy. Actually it makes no difference to me who's going under the knife again, but at least I felt healthier during my pregnancy and I think it did prevent those ugly greenie lines. So is she suggesting that those people who gave birth to 3.XX kg baby don't exercise and they are practically lazing around during their pregnancy? Then I must say my life is bad, becoz' before I had my helper, I had to do all the household chores and wash car. Does that also explain the size of my tummy?
My weight today? 65.7 (gained 0.1kg from last appointment 10 days ago. Total weight gain 8.7kg))
After fasting since last night, and having to skip both breakfast and lunch - I am really famished! I am happy to announce that my glucose level is normal for both after fasting and the next test 2 hours later.
The lab result was given to me, and I am thankful that this time round the result is easier to interpret. 4 years ago, I didn't understand what I was told and what I was reading so I asked my brother. He explained that I am not in the range of those having Gestational Diabetes, but my gynae being the overtly cautious type would already say "you better watch what you eat." This time round, I'm again not diabetic but what the result said :
' The results indicate impaired glucose tolerance but not diagnostic of diabetes mellitus'
****************************************************************************
Extracted from website on a better understanding on those terms :-
Impaired Glucose Tolerance
Impaired Glucose Tolerance is a condition that occurs when the blood glucose sugar level is higher than normal but not high enough to be diagnosed as diabetes. There are often no symptoms associated with IGT. Therefore, diagnosis can only be made after an Oral Glucose Tolerance Test(OGTT). This involves having your blood tested when fasting and then two hours after consuming a concentrated glucose drink.
One in three people with IGT risk developing Type 2 diabetes within 10 years of diagnosis. Research has shown that IGT also increases the incidence of cardiovascular (heart and blood vessel) disease, which can lead to heart attack and stroke. Two other risk factors more common in people with IGT are high blood pressure and elevated blood fats (cholesterol and triglycerides).
IGT most commonly occurs in people who are overweight and physically inactive. In particular, people who carry excess weight around the waistline are at the greatest risk. Like Type 2 diabetes, IGT is a result of insulin not working effectively. This is known as insulin resistance.
Impaired Fasting Glycaemia
Impaired Fasting Glycaemia is another category that identifies blood glucose levels that are higher than normal, but not in the diabetes range. It is diagnosed through a fasting blood test and not the OGTT. Impaired Fasting Glucose occurs less frequently than Impaired Glucose Tolerance, and has been associated with lower than normal levels of insulin rather than insulin resistance as in IGT. Like IGT, IFG is also linked to an increased risk of developing cardiovascular disease and Type 2 diabetes.
The following table explains the diagnostic criteria for these two conditions in comparison to those for diabetes:
Diagnostic Criteria for Diabetes, IGT, and IFG
Diabetes Mellitus: Blood Glucose Level
(Venous Plasma Glucose (mmol/L))
Fasting 7.0 and above
or
2 hours after glucose drink 11.1 and above
Impaired Glucose Tolerance:
Fasting Less than 7
and
2-hours after glucose drink Between 7.8 and 11.1
Impaired Fasting Glycaemia:
Fasting Between 6.1 and 7.0
2 hour reading (usually not measured) Less than 7.8
Management for both Impaired Glucose Tolerance and Impaired Fasting Glycaemia involves healthy eating and regular physical activity.
Healthy food choices include eating a diet low in fat (particularly low in saturated fat), high in carbohydrate (preferably low Glycemic Index or GI) and high in dietary fibre.
Regular physical activity is also very important. Not only does it improve your sense of well-being it also enhances your body's ability to use insulin, therefore improving insulin resistance and lowering blood glucose levels. The current recommendation is to aim for 30 minutes of physical activity eachday on most days of the week. Even breaking this down to three lots of 10 minutes is beneficial for your health.
Wednesday, August 30, 2006
I have to do a finger prick test when I go for my check-up tomorrow and for sure, I'll be in the unhealthy range even after fasting.
Well, can't blame me when there's a fantastic cake in mom's fridge.
Mom : There's a cake in the fridge. Go ahead and eat it
Me : No.... I must watch what I eat as I have to do a test tomorrow
Me : (went upstairs alone while she & KZ headed to the market) (opened the fridge to see the cake) Wah... very nice leh. (ate half of a sliced piece which I finished in 2 mouthfuls, then buay tahan took another one.)
After my lunch of mom's Mee Hoon Kuey, I had another small slice of cake.
My tea break - another small slice of cake.
I found out that dad's client bought the cake from Tower Club for dad. And boy! the cake is really the best I've tasted so far. This is what I call GREEDY!
I am quite prepared to enjoy the last few weeks of my pregnancy, now that mom and myself have sat down and discussed on the schedule. What makes it much easier this time round is that I know when I will be giving birth to Aricia, so that a proper planning can be done.
I know it sounds crazy to make what schedules for post-pregnancy but I guess it's no choice as I have an elder daughter to care for this time round. If this was my first pregnancy, I won't even be bothered to do any planning.
Mom will not be my "confinement lady" as her health hasn't been really good over the years. But she said she will still need to help me a little bit, like grocery shopping for fresh produces (confinement food need fresh produces) twice a week (or thrice) if not who will help me? And she will have to help me brew herbs to nourish my health back. So happy when I was told that I not only still have to drink the red ginseng but also birdsnest!!
Sometimes if she's okay, she'll come by to help me care for Aricia especially so during the first week as I'll be "bed-ridden" (in my own words : I doubt I'll be 100% bedridden. I can't sit still for long kind.)with the stitches still raw and difficult to move about.
And then the headache part.. is about my menu. I'm a fussy eater, I don't eat pigs trotters; I don't eat pigs stomach; I don't eat liver; I don't eat......... Basically I'm only a fish, vegetables, pork and chicken person. Pork also must be those non-fatty type etc..and cook in certain style.... Until mom dunno what to ask KZ to cook for me. And that's not the only thing she had to deal with me. I also don't eat much, I can simply have my 1/2 bowl or less of rice and one dish to make me happy.
Confinement food catering was definitely out of the option for me as there will be alot of leftovers. So she planned on some dishes which KZ can whip up for me.
At least now I've got the menu done and typed into the computer. So I know what I'll be eating on different days, and it also serves to remind KZ on what to cook for me every day.
When the date draws nearer, schedules will be printed and pasted on the fridge door - like how a hotel or a big restaurant would operate. Haha!
Was so tempted to buy this when I received the mailer from them. But then, I keep thinking of the stuffs which I have yet to use from B & BW.
More details of the new range:
For its new range L'Occitane has selected an organic grape juice from the Domaine des Tuiles Bleues (Blue Tile Farm) - a family grape farm specialized in organic agriculture for over 20 years. Harvesting occurs between August and September. The organic grape juice is pressed from high quality black grapes (Muscat and Lavallˆme varieties) and its organic status guarantees it is free of pesticides, insecticides, and chemical fertilizers. Rich in vitamins, calcium and potassium the juice is supplemented with other grape active ingredients, e.g. Red Vine leaf extract (drainage stimulation); Grape-seed oil (nourishment) and grape seed powder (exfoliation).
Tuesday, August 29, 2006
Commercials are usually the best times to do channel surfing. But- not when girl's favourite commercial is on.
Recently, she takes a deep interest in the commercial by
Starhub Smart TV
She would scream "Stop! Don't change..."
Funny thing is, she'll repeat what the husband tells the wife in her 'sometimes can understand; sometimes mumbling' words. And the finale - "Mom... he's having an affair...."

Monday, August 28, 2006
After many emails, we have finally arranged to lunch together at Mezza9. She kept insisting on meeting up before I pop. 4 years ago, she was the last friend I met before I gave birth, will history repeat itself again?

Prior to meeting Wilma, I went over to Isetan supermarket to get some things and was drooling over the chocolates. And if that's not enough, I had to pass by Sun Moulin on the way out. The chocolate croissants and swiss rolls were so tempting.


We had a nice meal over our chats. It's really amazing

, we've been emailing almost everyday but we still can find topics to talk about. Once, Aricia gave me a kick, she thought I was about to give birth. Anyway, I assured that if I needed to give birth, she'd walk me over to Mt. Elizabeth - so closeby.
Before we left, she gave her god-daughter a rubba rubba. Aricia didn't respond when she was calling her "Aricia". Probably found her voice so unfamiliar. When we parted ways, Aricia started moving about actively. Naughty girl!She's your Godma leh!
I still had alot of time left, so walked over to Borders to grab a book. Darn! Just when I had to watch my diet, I had to pass by NYDC and Big O. Staffs walked up "Table for?" What am I to say? "No, I'm just drooling over your cakes??" I kept looking at the chocolate cakes on display. Yummy. It was not enough to satisfy my craving.
In order to avoid the peak rush hour, I quickly left before 5pm.
Feels relaxing without the girl at home. Don't have to nag, suddenly the house is so quiet.
Saturday, August 26, 2006
that I plonked to bed after showering when I got home at 10pm. I couldn't be bothered with that girl, and left hubby to help her brush her teeth & bring her to her room to sleep. Heard her crying for me, but I couldn't move myself out of bed.
Think it's because for the past two days I haven't really taken any afternoon naps - running errands. Made me even more tired after the swim yesterday evening.
Now as I am penning down this, I'm supposed to sleep. But seeing girl fast asleep and that's the only time I can quickly do my own things, decided to forgo the sleep and probably sleep early tonight?
My nesting instinct came too late this time round. Perhaps maybe I was too busy with the elder girl to want to accomplish anything for baby Aricia.

But somehow these two days I don't know why I suddenly have the urge to bake a muffin or cake or something. Something which I've not done for a long long time (not like as if Aricia can benefit from the stuffs I bake) since I got married?? Mom used to have those conventional oven where it's so easy to control the timer and temperature. And since we moved out on our own, and having insisted on buying a "can bake microwave" - hubby retorted "like how often you bake? - I still haven't figured out how to bake using our microwave.

But what a thing to want to do at this time, when I have to watch my carbohydrates and sugar intake.

Friday, August 25, 2006
Mom, KZ and myself went out a little early today to TM - as I needed a haircut and to run some errands.

As I went for my haircut, mom and KZ walked around on their own. After I have finished my haircut we called one another and decided to meet at McDonalds for a drink. Mom and KZ reached there first- a few minutes earlier than me.

When I sat down, I noticed there was a Prudential Policy File on the table, and asked mom who it belonged to. She said she had no idea, so we presumed that somebody had accidentally left it behind, so we left it on one side of the table. We were chatting and then decided to order a drink. Mom ordered a drink for me and went to get an ice-cream for KZ. When the 2 of them left the table, one lady came up to me and told me in mandarin " just now a lady wearing white and light blue told me she'll come back for her file. She said she's gone to the toilet but it has been quite some time already.. I still don't see her. Later she will come back to take the file." So what do you translate? She'll take the file and leave right? Either that or the lady who was asked to lookout didn't comprehend what the insurance lady was telling her.

We were happily chatting for a good whole 20 minutes (20 minutes!!) when suddenly this mad lady came to me and told me off, cocking her head to one side; finger pointing on the table (and with the most irritating face) "Why are you sitting here? This is my place you know?" For a moment I feel like hitting her head to make it cock the other side. So rude right??
M : How would I know this is your table?
She: I left my file here what?
M : So... we've been sitting here for so long already. We thought someone before us had left it behind.
She: (she like kept standing there insisting that we leave the table)I told a lady to watch my things what?
M : A lady? After a long time then she told me that you're coming back to take your file. That is after we've seated down for a long time. She never stopped us earlier on and she never told us it's a reserved table.

Mom upon hearing the unreasonable bitch's comments to me, told her off.
Mom : Ai yoh... you want to reserve the table. Get someone to sit here lah!
She : My client still not here
Mom : So? Then reserve for what? You ask a stranger to lookout for you, where got people so kind to help you to the end. You leave your file here no use one lah. Nobody told us.... ai yah... you talk so much for what.... we won't be sitting here until night time what. You can have YOUR table back after we leave.

(* clap * clap )
Then her client came, but we purposely didn't want to leave the table. So she had no choice but to pass the file to the person and left. And you know what? We continued chatting for the next 15 minutes or so, and then when we were about to leave, I saw her sitting next to us again. Yah! At that time, I didn't know she was there and was making sacrastic remarks at her. Haha! She heard me.

So, she probably thought that the stranger would help her lookout while she go jalan jalan? I mean who would spend more than 20 minutes in a toilet?
She's got an irritating face ( I didn't say it just because she offended me ) and I hate her pointing gesture.
Tuesday, August 22, 2006
In the morning, Athena insisted on giving her Aunty Zet her birthday card. When she gave the card to her she said "Aunty Zep I give you this not nice card. I do not nice." KZ received and kept it in her room.
After dropping Athena in school, I made a trip to Emicake to get a cake for KZ.Got her a "Pure Addiction" from Emicake. The cake has a thick layer of chocolate on the top sprinkled with some cute white marbled pieces on the top, and inside it's filled with chocolate coated almonds and ganache. Looks good. Can't wait to tuck in!
The day passed quite fast, and I left her to do her own things after finishing her chores. It was the time where I can quickly catch up on my sleep, so I took a nap in Athena's room.
We left to pick Athena up from her school. She went upstairs first while I picked both girl and cake. Felt a tinge of sadness came to me, here I am holding a box of chocolate cake and couldn't wait to tuck in but I can't - since I got the call from Peck Ling.
Picked hubby up from his workplace and then went down to
Inle Myanmar Restaurant
. We asked her for her recommendation, ended up she ordered the noodle soup for herself (think she didn't understand what we were suggesting to her). I ordered a fried vermicilli with chicken- which turned out vermicilli was mee hoon not the tung hoon. Hubby ordered Fish with Tamarind Sauce and Kangkong with garlic to share with girl. Although I washed off the so-called chilli (she kept screaming "it's hot. Got chilli.") in my soup, she simply refused to eat her rice. So I gave her my mee hoon which she gulped down until she started burping. KZ recommended Coconut Agar Agar to us, which turned out that it tastes different. Hubby ordered the Burmese Chendol, which had nothing except for the greeny worms and probably one or two chestnut cubes. I savoured a little of each. We were very full and suggested that we cut the cake back at home. Felt so stupid lugging the plastic bag around.
KZ outside the restaurant


Anyway, we went up to the 2nd floor where hubby said there's a Little Myanmar. She was smiling all the time, seeing something almost familiar to home. Went into a grocer store where I asked her if she wanted to buy anything, which she missed. As usual, she's so pai-seh dare not pick up anything for herself. The stroll made our stomach a little lighter.
I don't know what's with Athena today, she seems to be yakking and yakking away today. Out of the blue just started singing a song which she had just learnt "O.B.E.D.I.E.N.C.E blah blah blah..."(couldn't figure out the words) And then she started yakking until we cannot tahan. I don't think the vermicilli made me so talkative today?!?
Anyway, we headed back home about 2 hours later. By the time we reach home was already 15 minutes past 9. Food digested and we can cut the cake. Athena was so happy....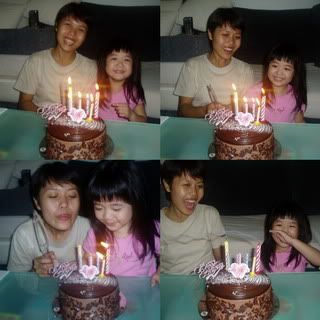 I only cleaned up Athena's chocolatey mess from her plate. So poor thing..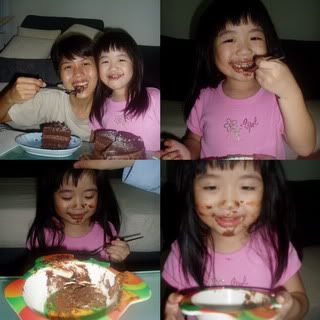 Must have been my glucose so high until the test result came back so fast.
Received the call from Peck Ling in the late morning. Despite me watching my diet and stealing the occasional bites of chocolates and ice-cream since I got preggie, I still had Gestational Diabetes.But I kindda expected that I'll get it again this time. Fortunately I only have a month to go, so it's not that bad for me to control my diet for the last few weeks. For both pregnancies, I had GD, and in both cases I do not have any symptoms as explained.
I recalled years ago, I did a google search on who are at risk of getting GD. One of the points mentioned that, mummies who were born small (I was much smaller than Athena) have a risk of getting it when they're pregnant. Whatever it is, I think my weakness for sweet stuffs esp desserts and chocolates is enough to kill me.
Gestational Diabetes: Causes, Symptoms and Management:
How gestational diabetes can affect your baby
Gestational diabetes affects the mother in late pregnancy, after the baby's body has been formed, but while the baby is busy growing. Because of this, gestational diabetes does not cause the kinds of birth defects sometimes seen in babies whose mothers had diabetes before pregnancy.
However, untreated or poorly controlled gestational diabetes can hurt your baby. When you have gestational diabetes, your pancreas works overtime to produce insulin, but the insulin does not lower your blood glucose levels. Although insulin does not cross the placenta, glucose and other nutrients do. So extra blood glucose goes through the placenta, giving the baby high blood glucose levels. This causes the baby's pancreas to make extra insulin to get rid of the blood glucose. Since the baby is getting more energy than it needs to grow and develop, the extra energy is stored as fat.
This can lead to macrosomia, or a "fat" baby. Babies with macrosomia face health problems of their own, including damage to their shoulders during birth. Because of the extra insulin made by the baby's pancreas, newborns may have very low blood glucose levels at birth and are also at higher risk for breathing problems. Babies with excess insulin become children who are at risk for obesity and adults who are at risk for type 2 diabetes.
Monday, August 21, 2006
Had my book and a Sudoku game to keep me company today, as I had to stay longer than 2 hours in the clinic for my GTT - which I told them it's a waste of time, might as well just diagnose me with GD since they said I had it the last time. But well procedure is still a procedure. If I don't hear from them by Wednesday means it's good news. If not I will have to control my diet till the end of pregnancy - which I have been doing since I was preggie.
It is horrible to gulp down that bottle of glucose drink in 5 minutes. I think it's much lesser in quantity as compared to what I had to drink 4 yrs ago. I think.......But if it's chocolates, it'll be down in my throat in less than that!
Tried getting a snapshot of Aricia but she had her hand covering her mouth. And then asked to check whether got hair or not.. seems like she don't have much hair as compared to her elder sister. Argh!!
Her weight to date : 1.98 kg (an increase of 0.28 over 17 days)
Athena's weight at this week : 1.87kg
Athena's birth weight at 38+ weeks was : 2.615kg.
So now, I'm trying to calculate if Aricia will be bigger than Athena at birth. Perhaps it's time I should stop worrying if I've put on too much weight and eat more.
My weight to date : 65.6kg (an increase of 0.6kg & 9.1kg in total)
Saturday, August 19, 2006
Our house has been relatively quiet the whole day until 5plus when we had a surprise visitor.
I was in Athena's room with Athena and KZ putting in the newly laundered baby clothes for Aricia when........ a dog wagging its tail and went "heee heee heee" greeted us infront of the room. We were kindda calm, KZ can even turn around and tell Athena "Hey, Athena you see a dog. Come.. " I was smiling and went back packing. As we had kept dogs in my family since as I can remember, for a moment I forgot that we didn't keep a dog this time round.
Then it struck me, this is not my dog! I turned and asked KZ "since when we had a dog?" We bursts out laughing as we realise we had a runaway dog in our house.
Hubby heard the commotion and came out, looking at the dog. And that dog just went hyper; running about - wanting to play. I wish I can play with it but I can't run after that 'Energizer' dog. I wanted to lead the dog out of our house to our neighbour but seeing it so active, decided that I had better carry it - otherwise I may end up chasing the dog along our corridor. That dog didn't even obey. I went "Sit! Sit!", "stay, stay!" and it was still running around. Allowing me only enough time to pat but not carry.
Then the spotlight came on me, I was an actress on "stage" with my hubby (audience) sitting down on the sofa and holding onto Athena (she got a shock)and KZ (audience) standing there looking on. I wish one of them could help... but how was I suppose to ask them to help when my hubby never knew how to handle a dog, and I'm not sure if KZ is afraid of dog. So this pregnant woman with a belly was trying to coax the dog.When I was about to carry the dog, it ran off again and then I gotta move my Humpty Dumpty body from the squatting position. This went on for about 3 minutes and at a few places (squat, unsquat), until I went to open the fridge and brought out Athena's sweet to stop the dog.
Dog lovers, not to worry I didn't give that Shih Tsu sweets at all. I brought it over to my neighbour's place. Their daughter came out and was laughing at how their dog could go into our house. Yup! Both households had the wooden door open so the dog could squeeze out of their metal gate and into ours. Come to think of it, it's really hilarious but it did liven up our boring household that moment.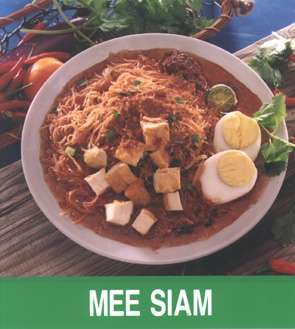 I don't understand why but I have this craving for Mee Siam now, and it's not exactly good news considering the constant heartburns I'm getting recently.
Speaking of which, I remembered very well that when I was preggie with Athena, I must have my Mee Siam. And at that time, Magnolia Cafe at Centrepoint (the highest Times Bookstore level) serves the best. Why? Because it's sweet... So I had 2 bowls or more in a month. Which maybe explains on the GD I had from eating Mee Siam, crabs, rojaks.
Magnolia Cafe has been closed since a long time ago. So I can only hunt down new places, and I'm glad that Katrina in B1 of Tampines Mall serves nice Mee Siam.
I also start thinking of the dried Mee Siam which I last had 12-13 years ago at Marine Parade when I was working in the bank. I think I should pop by one day to see if that confectionery still stands.
Time being, this glutton who can't cook have managed to find a few recipes online - hoping that someone will be so nice to cook for this preggie lady.

Fried Mee Siam
Mee Siam

Friday, August 18, 2006
After such a long time, I finally managed to meet Angeline. Told her I had better meet her before I give birth. (anyway, a diversion from this topic. Last night I felt so uncomfortable with my heartburn and felt my tummy pain - like stomach pain. I don't know if that's Braxton Hicks. I told Aricia "It's not time for you to come out yet. Mummy's not ready." Fortunately, it was a false alarm. I can't imagine the chaos in my family if there's an early delivery.)
It is always so difficult to catch Angeline, I don't know why she always seem so busy.But I'm glad that she found time to meet me today.
We met at Downtown East - Explorer Club. She suggested the place so that Alexandra her daughter can play while we sit and chat. So in the morning, Athena woke up at the same time, and instead of changing her into her school uniform; I changed her into outside clothes - and she was so happy!
We tried to make use of the time and chatted like a train. Jumping from topics to topics. And one time, Angeline was suggesting that I should eat more chocolates, as it is scientifically proven that those babies born are generally more happy. Well, I don't mind binging on chocolates coz' I love chocolates. But I'm thinking if I might get Gestational Diabetes again.Speaking of which I have to do a GTT on Monday, spending hours in the clinic. Sians!
I was literally glued to my seat so I didn't take much video or photos.Well, I'm sure I'll have more opportunities next time.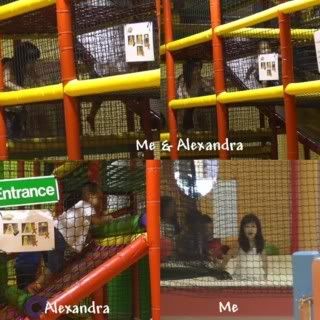 The playtime ended in an hour's time. And we went to the foodcourt for our lunch, where I had the Chicken Rice from the Chef of Chatterbox. Before that, we got these photos of them.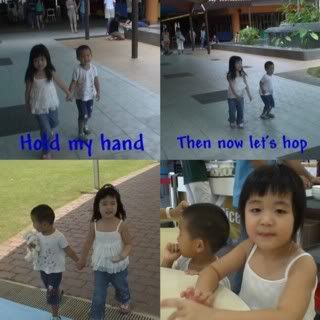 It's such a sweet sight to see them holding hands (when they both acted like strangers at Alexandra's birthday party in April), walking and jumping.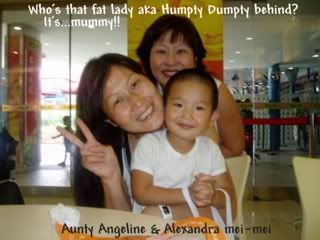 Photo of us, taken by my little girl.
After which, we made our move. I wanted to visit my girlfriend in Mt A - who gave birth last night and I only received the sms in the morning. Just nice, I can give Angeline a lift to Upper Thomson for her to get a bus straight home.
This is Shai-Ann! (Ok, Moo Han I didn't post the photo of you inside here huh?! Just in case I kena strangled by you)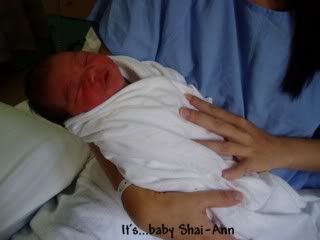 Isn't she cute?
I kindda felt scared carrying a newborn, especially friends' babies. Dunno.... it's just the fear of accidentally dropping the baby... As I carried cute Shai-Ann, Aricia had to move(in jealousy?)One month later, I'll be carrying Aricia. And then we will start hearing those gentle baby cries. We chatted a little, while she was still trying hard to wake Shai-Ann up for her milk, and she admitted that she didn't talk much to Shai-Ann. So.......I'm not the only one. That's nice to hear, to think that I was feeling a little guilty for reading less; talking less and screaming more to Aricia.
Brought Athena to United Square for a walk. She's already tired but simply refused to sleep. As we walked past... temptation sets in. 10 pieces for $10?!? But who cares, if it really means that Aricia is going to be a happy baby; I'm going to be a happy mummy and Athena's going to be a happy girl -it's worth every dollar.
We didn't stay long coz' U Square was getting boring.Girl fell asleep just as we were reaching Punggol.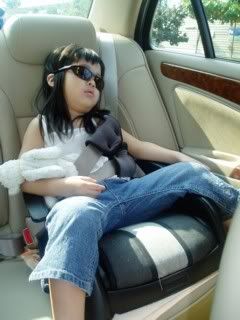 So unglam - the way she sits. I think I better think twice about asking her to be our future Miss Singapore.
She was so excited with the gift that Aunty Angeline got for her, as a gift for being a big sister. Angeline is always so thoughtful. Thank you Angeline!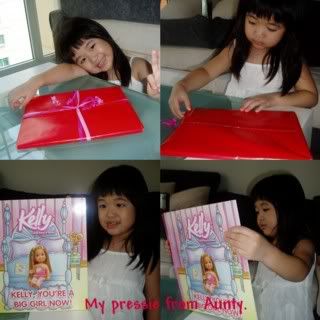 Tonight she gets to sleep in her room with KZ, she did rebel a little. But after reading her her bedtime story, she didn't argue with me much longer and fell fast asleep. Ummm..... let's hope it's good news in letting her sleep in her room from now onwards.
Thursday, August 17, 2006
Wednesday, August 16, 2006
Last night decided to let her sleep in her room, with the helper co-sleeping with her on the floor.
But our dear girl cried and cried, saying she wants "mummy..." Then when asked her to hug and kiss daddy goodnight, cried and cried like as if she lost us in a shopping mall. Daddy had to hug her, still she cried!
But we have to do this heart-breaking thing to her now, as we need to prepare her to sleep in her own room. You don't expect all 4 of us to co-sleep in the same room right? And not like as if new flats are big, our Master Bedroom is small!
Monday, August 14, 2006
I simply hate it when some inconsiderate or rude people will push you by your shoulder just to walk past you.
In the afternoon, one (definitely much older) Eurasian lady just had to push my luck, and unfortunate her for getting a lashing from me in the supermarket spouting fire; embarrassing her infront of so many people.Until she kept apologizing.
She : (pushed me on my shoulder making me turn move further to my left)
Me : Hey! Why did you push me?
She : You are in the way
Me : I am walking as well, what in the way?
She : You are in my way
Me : Can't you see who's walking (pointing to my tummy)
She : Oh, I don't know.
Me : Whether it is a pregnant woman ; old lady or what. You don't push to get your way through
She : You are blocking me what???
Me : Do you have eyes growing behind you? My eyes are infront not behind, how would I know you are behind me?
Me : Can't you just open you mouth and tell me "Excuse me?"
She : Sorry.... sorry.... sorry.....
Good thing this happened near the cashier in YES, so there were quite a number of people around there. She must have left the place quite soon after, darn embarrassed.
JUST HER LUCK FOR PUSHING ME!!
Someone's been using my stuffs, my cleanser and toner to be exact.
Before you start pointing fingers. I must say that I caught the thief red-handed with my own eyes. The thief was shocked as she did not expect me to go into the toilet at that time.
The thief is none other than my daughter...........
She has been observing me cleaning and toning my face before and after wash, so she helps herself to my stuffs. I can't imagine how much faster my stuffs will deplete when Aricia's older.
Saturday, August 12, 2006
In light of the recent spat of a terrorist plot to blow up commercial airliners over the Atlantic, it had suddenly dawned upon me that 2 years+ ago a worldly and worthy advice was given to me.
2 years+ ago, I was accepted as a flying mother in SQ. At that time, I was jumping for joy because I missed flying so much. And getting in after the interview (yup. Had to go through interview again) was not easy.. It's a chance of a lifetime for me to finish that remaining 2+ years.
But then again, hubby's words made me think twice when he warned that he'll be travelling alot in his current post. I cried and didn't know what to do, here I am stuck with the choice of fulfilling my dream job and another - a mother. Two close friends knew about it, also gave me their penny thoughts.
However, one person, Aunty Pat actually told me so many things that I was so blinded to see. She did warn about the future, if any terrorists attack etc.. and if it's worth my life to sacrifice my child for this job. In the end, I had to make that phonecall back to SQ to reject the offer. Of course, Ben Teo asked "Are you sure, you are lucky to be the selected few. Once you reject this offer, you can never come back to rejoin the company anymore."Truthfully, the words did hurt alot. But after hearing last weeks' news, I am glad that Aunty Pat had managed to talk me out of it.
I can't recall if I had any entry on the other side of my little girl - bossing around.
If Kai Zet wants to call "mum", she should call my girl "mum"and not me.
Weeks ago, KZ was scrubbing the grouts in the living room, after I stopped for a rest. Athena stood there looking at her cleaning the grouts; with one hand on her hips and pointing "Aunty Zep (Zet), here still very dirty.. later after you clean there finish; clean here." She looks funny with her actions and we bursts out laughing. But I have to correct her after that.
Well, that incident is only the first we've seen the other side of her. On several occasions, KZ will say goodnight to me first, and then walk towards our MasterBed

Room, wanting to say goodnight to hubby. But before she could reach he door, the naughty little girl would tell her "you never say goodnight to Sir. "

Then recently, girl knew it's time for bed, told her "you never say goodnight to mum and Sir."
When we're in the supermarket, she likes to sit/stand inside the trolley. And she'll say "Sir is over there.... or mum is over there. Hurry! " Quite hilarious if you ask me.
Today, hubby brought her down to the carwash bay to drive the car back to a lot. ( I fell asleep) Hubby told me, the moment she went down she told her "here still dirty, there still dirty...."
She's quite bossy don't you think? I can imagine her ordering her sister and cousin around. Yup! My SIL is now in her 3rd going to 4th month of pregnancy. So we say, she's going to be the 'dai gah che'.

Friday, August 11, 2006
Met up with Lynn of Stemcord today, and got everything signed.
And what surprises me is that the kit was given to me today. Looks scary with the syringe and bag and what nots..... so gotta pack that in my delivery bag.
So, at least another thing off my mind now. Let me see what else do I need to prepare for delivery.....

PS: Just learnt from her that the mummy is the authorised person for everything.. So must will it down infront of a lawyer next time. Otherwise anything happens to me, nobody knows that I've got my little Aricia's cordblood kept aside.

Thursday, August 10, 2006
I don't know if you remember a few weeks ago, I talked about my girlfriend joining the Jean Yip Beautiful People 2006.
Well, today's her episode. I couldn't join in her filming one week ago, but I'm glad she has gained her confidence and looked so different. Can't wait to meet her next Friday for our lunch date.
Anyway, hubby asked how much help the slimming centre would help a person in slimming down. Truth is, slimming centres can only help you lose the water. So the measurement taken before and after, is the lost of water. And after some time, you'll notice not much inches lost. Only the rich tai-tais can afford to go daily and long term. The ultimate and best way of losing weight is to eat healthily and exercise. Output > Input.
Guess what hubby said? "so next time you can go and join lah...." and bursts out laughing.
M: If I'm that lucky to be selected amongst the 1000 or dunno how many applicants. And they'll only give to desperate cases.
Tuesday, August 8, 2006
You know, my daughter is afraid of me. She will look at me when I'm angry and starts scolding her, ultimately she will somehow apologize to me. If it's daddy, she won't apologize at all.

She gives me that kind of look also, and sometimes look at me to seek my approval on normal occasions.

Earlier on, she made me angry. I ignored her, she simply refused to go back to our room (I was in her room using the laptop). And almost dozed off in her own bed, until she heard me switching off the main switch and jump up saying "I want mummy....."

I know she is tired, but when I'm angry and want her to do things eg. pee before bed, wear PJS - she'll do it on her own and fast too! She continued looking at me; hoping that I'll give her a hug. But I didn't want to soothe her.
Athena showed me the Singapore flag that she had made in school. And started singing in the car on our way home, making my usual 9 mins drive home slower than usual (coz' I was laughing at her mispronounciation)
"we are sengkang por, we are sengkang por. we're a na-sen strong ......"
"this is my country, this is my flah. This is my fu-cher, this is my life..."
I didn't get a chance to ask her to stop singing, she just continued yakking away in the car. And then she started saying her pledge, putting her arms on her chest :
"We the scissors eh.. no ci-ti-zens of Sengkang por. Pla ourselves as one u-nai people.
Le-gardess of lace,lan..or li-gion. To build a dying society ( I burst out laughing!)base on jus-t and quality. So ah to a-chief hap-ness and po-gress for our nation."
Okay, I don't know what to type for the Chinese version, but she said the pledge in chinese with pouted lips and the words are so funny.
********************************************************************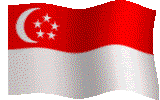 For the benefit of those who have no idea what my girl was rattling about. This is our Singapore Pledge. And we will celebrate our nation's 41st year of independence
We, the citizens of Singapore,
pledge ourselves as one united people,
regardless of race, language or religion,
to build a democratic society
based on justice and equality
so as to achieve happiness, prosperity and
progress for our nation.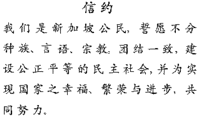 Monday, August 7, 2006
I brought Athena for her Princess shots today.
Overall, I am rather pleased with her. I thought she would not co-operate, but after awhile she was used to it and listened to the photographer.
See her pre-shots photos from her blog
The photos will only be ready in about 2-3 weeks time.
Saturday, August 5, 2006
Brought girl out to meet her favourite Aunty Jus today. But before that, I gave her her lunch first as she's a cheena girl - fussy about food.
I was nagging at her for not eating much as she started counting "mummy, one more spoon ok?"
M: You don't eat alot, what happens if next time mei-mei's bigger than you?
A: (paused)
A: Then mei-mei and me get married together lah
M: No, cannot! 2 of you cannot leave house the same time!
.... I don't get the connection between our conversation. But oh well...... kids!
And as if I thought she would have a full-stop there. She continued rattling on..
A: Then next time mei-mei and me come back together to see daddy, mummy. I drive the car, mei-mei sit infront. Daddy mummy sit behind. Then I drive drive drive (actioning the movement of steering wheel) and we go Sengkang to eat.
Wow! So filial hor? But then is this what we'll get from them after the weekly Sakae Sushi meals from me and how much we've spent on them??
Friday, August 4, 2006
Went for my antenatal appointment today.
Usually I would ask for a copy of the scan randomly, today Wee Chee managed to get me a shot. But was saying that it's not a good view as baby has her hand over her mouth. Anyway - better than going home without one right.
What amuse me later was the uncanny resemblance in the two little Princesses when I opened up Athena's book.
Here's Athena at 32 weeks
Here's Aricia at 31+ weeks
Same action. So funny!
Ever since my ex-colleague, Caroline, introduced me to this treat -I've never really forgotten about it.
Of course the glutton me would order when her sister's colleagues are ordering. Until, the news came that she has resigned. There goes my hope.
But I'm glad that now I've got another way of getting them - through the SAHMs. Yay! Mommies RULE!! Thanks alot Winnie!
This is what I've been waiting for................................... for your eyes only!
Wednesday, August 2, 2006
I walked behind this young family earlier on, and looked at their cute little girls with them.
Infact, I haven't imagined it would be like to be out with two young girls. I've always envisioned a boy and a girl out with hubby & me (hubby walking with boy, and me with girl). Strange, even after I found out Aricia's gender I never had any dreams or envision two girls out with us - until today. "So this is how my family will look like from others' point of view", I thought to myself. And like a crazy woman, I started smiling in joy.
***************************************************************************************
Talking about two girls. coincidently,I read about this earlier on.
Excerpts from The Electric New Paper :
Want a baby girl? Marry a good-looker
August 02, 2006
BRAD and Angelina had Shiloh, Tom and Katie had Suri, and Reese and Ryan had Ava.
And London researchers believe that it was no accident that all the celebrity babies are girls.
According to a study by the London School of Economics, good-looking couples are 26 per cent more likely to have a daughter rather than a son for their first child, reported the London Times.
And scientists believe this is why women have become increasingly more attractive than men over the years.
The bias towards having daughters has to do with differing 'evolutionary strategies' that each sex has adopted to survive, said the researchers.
They reason that the first-born of aggressive, high-status parents tend to be boys because they are better equipped to protect their family line and outwit competitors when it comes to finding a mate.
BEAUTY AS A WEAPON
However, the likelihood of having a daughter is mostly dependent on the parents' youth and attractiveness. These girls can then use their beauty to attract the best mates and hang on to them.
'We have shown two things,' said
Dr Satoshi Kanazawa, who led the research.
'Beautiful parents have more daughters than ugly parents, because physical attractiveness is heritable and because daughters benefit from attractiveness more than sons.
'We have also shown that women on average are more attractive than men, because over evolutionary history, the slight bias of beautiful parents to have more daughters has accumulated, so that girls have become more and more attractive than boys.'
The report, published in the Journal of Theoretical Biology, also argues that youth and physical attractiveness matter more to a man when choosing his mate than status or wealth.
Researchers analysed more than 20,000 people in the US and rated their beauty according to height, weight and apparent age - all factors that can be used to judge basic attraction levels without subjective viewpoints.
Only first-born children were included in the analysis.
Dr Mark Thomas, senior lecturer at the biology department of University College London, said the LSE study appeared to 'fit in' with the state of research on sexual evolution.
Good-looking Hollywood couples who have lent weight to the theory include Brad Pitt and Angelina Jolie, Reese Witherspoon and Ryan Phillippe, and Tom Cruise and Katie Holmes.
Outside Hollywood, researchers pointed to Prince Rainier of Monaco and actress Grace Kelly who had the beautiful Princess Caroline.
***************************************************************************************
Footnote from me:
- So how do you define good-looking? Everyone has different taste, what my look attractive to you, may not look attractive to others.
- How much can the scientist prove that this argument is effective?
- Ahem........so it means hubby & me are good-looking lah! Haha! (floating on Cloud 9...)
Athena went for her 5th Music Wonderland lesson today. Her teacher, Jasmine, commented that she has good rhythm and the only one shaking to the music - while all the others just stood there and do what they're supposed to do.
Infact, Amanda's mummy turned and looked at me and said "your daughter's dancing!" I find it hilarious coz' she's like the only one moving her body (yippee! next time we can party together)
But somehow I'm also proud that she got her rhythm right (but some action wrong).

At the end of the lesson, her teacher commented that again and hugged her before the children left "she's my favourite student, I like her." I dunno how the other parents felt.. I mean any parent would feel horrible if their child is not praised right? Somehow we gotta be modest and say "she anyhow dance one.." easing the feeling that other parents might feel.

Having said so, she likes to dance. She enjoys dancing to Hi-5, which is a "must watch" before she leaves school every morning. But she refuses to dance in school morning assembly!
Tuesday, August 1, 2006
We did a photoshoot today,where we had so much fun! Laughing and playing around. Athena keeps thinking today is her Princess shoots, and bragged to her auntie (my SIL) that "I'm going to take Princess photos".
Somehow, the photographer made a trip to an opposite shop to buy a small wing; tiara and wand for her to wear. And she kept saying "I am a Princess, I am a Princess.." Everytime jumping down from the session and running to the mirror to see herself. So cute!
The shots that I can take are snapshots prior to the photography session.
Never in my life have I ever been such a gracious driver until today.
Was on our way home after our photography session, when I remembered about the ERP gantry at CTE(AMK) which is operational from 6-8pm.
I went slow, keeping from right lane to left lane. And going as slow as I can. And when cars wanted to cut into my lane, I graciously gave in to them. Such a nice driver hor??
Somehow, nearing the gantry, I told Zet "you know why all the cars are going slow?" She replied "yes mum. You always drive fast, why so slow now?" So I explained to her. Then near the Braddell exit, I was looking at the time 7.58pm and jumped to 7.59pm.
"I need a miracle!!"
Zet who was sitting behind leaned forward and we all shouted "yeh" when the lights went off when I was about 150m-200m away.
Was talking to Zet in the car, to which we get the reply "Yes mum, yes mum."
Athena looked puzzled, asked her "Why you call her mum? Call her mummy!"
Zet: Yes mum
A : I say call her mummy......
(we both laughed)
When the conversation went to talking about 'Sir'
A : Call papa, daddy not Sir!
LOL:)