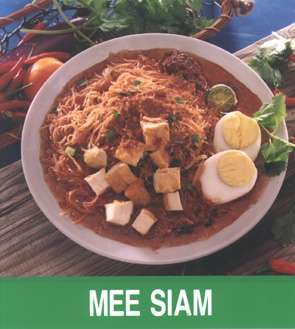 I don't understand why but I have this craving for Mee Siam now, and it's not exactly good news considering the constant heartburns I'm getting recently.
Speaking of which, I remembered very well that when I was preggie with Athena, I must have my Mee Siam. And at that time, Magnolia Cafe at Centrepoint (the highest Times Bookstore level) serves the best. Why? Because it's sweet... So I had 2 bowls or more in a month. Which maybe explains on the GD I had from eating Mee Siam, crabs, rojaks.
Magnolia Cafe has been closed since a long time ago. So I can only hunt down new places, and I'm glad that Katrina in B1 of Tampines Mall serves nice Mee Siam.
I also start thinking of the dried Mee Siam which I last had 12-13 years ago at Marine Parade when I was working in the bank. I think I should pop by one day to see if that confectionery still stands.
Time being, this glutton who can't cook have managed to find a few recipes online - hoping that someone will be so nice to cook for this preggie lady.

Fried Mee Siam
Mee Siam